Glynnis Collins, Executive Director
Areas of Focus:
 Strategic vision in coordination with the Board of Directors, Program Oversight, and Organizational Development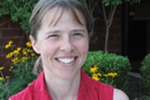 She works with our staff, funders, and partners to address the most pressing clean water issues that face Illinois' rivers. As Executive Director, Glynnis brings with her an intimate knowledge of PRN's program work and forward-thinking, pragmatic leadership to continue our important work.
Background: Glynnis took over the leadership role as Prairie Rivers Network's Executive Director in July 2008. Previously one of PRN's Water Resources Scientists, her work focused on ensuring that the Illinois Environmental Protection Agency followed the Clean Water Act requirement to set protective standards for the amounts of harmful pollutants that can be in our waterways. She also has experience in watershed-based ambient water quality monitoring and has done research into the fate and transport of nitrogen in water. She has worked with permit applicants, advocacy groups, municipalities, and local citizens—all of whom we communicate with in our clean water work on a regular basis.
Education: B.S. in Environmental and Forest Biology and M.S. in Biology
Favorite River: Niagara Strait
Contact: 217. 344.2371 x 201 or gcollins [at] prairierivers [dot]org
Traci Barkley, Water Resources Scientist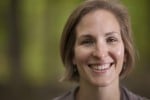 Area of Focus: Coal Pollution
Traci leads our program to protect Illinois waters from coal related pollution and damage to waterways. Illinois' history as a coal mining state has led to a too-cozy relationship between the industry, lawmakers, and regulators. Traci is working to bring accountability to coal mining and coal ash disposal in Illinois, so that the industry is held to the same water pollution control standards as other industries.
Background: When Traci first joined PRN in 2005 she worked to reduce pollution entering our rivers and streams by ensuring that municipalities, mining operations, and industries follow Clean Water Act regulations that include specific limits on the amount of pollution allowed to be discharged into a river or stream. Prior to PRN, Traci worked for IEPA where she was involved in water quality monitoring; provided technical assistance to the public, local watershed groups, and state agencies; and was involved in statewide discussions related to water quality standards and criteria, NPDES permits, and TMDL development. She also coordinated River Watch volunteers for the Illinois EcoWatch program, a citizen monitoring program that tracks ecological trends in Illinois. Traci is also a former PRN volunteer.
Education: B.S. in Ecology and M.S. in Natural Resources and Environmental Sciences.
Favorite River: Cache River System
Contact: 217. 344.2371 ext 207 or tbarkley [at] prairierivers [dot] org
Elliot Brinkman, Water Resources Specialist – Habitat Conservation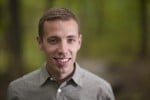 Area of Focus: Habitat and Restoration
Elliot is advancing our work in riverside habitat restoration and conservation. Even if we were able to remove all pollution from Illinois' rivers, they would not be healthy without native plant and animal communities alongside them. Our initial efforts have supported public and private landowners in cooperative conservation planning efforts along the Vermilion and Mississippi Rivers.
Background: Elliot Brinkman joined PRN in April, 2011. Prior to joining PRN, Elliot worked as a research assistant on a USDA-CSREES funded Watershed Health Integrated Research (WHIR) project in the lower Kaskaskia River region in Illinois. He was responsible for collecting and analyzing social data from several communities within the study area, and assessing capacity for watershed conservation. Elliot has also worked at Redwood National and State Parks as an environmental educator.
Education: B.S. in Forestry, with an emphasis on Outdoor Recreation Resource Management and an M.S. in Forestry, specializing in Human Dimensions of Natural Resource Management
Favorite River:
Contact: 217. 344.2371 x 202 or ebrinkman [at] prairierivers [dot] org
Robert Hirschfeld, Water Policy Specialist

Areas of Focus: Asian carp, invasive species, water law
Robert leads our Stop Asian Carp campaign. The high visibility of this issue provides the opportunity to address a long-standing problem: the man-made connection between the Mississippi River and the Great Lakes in Chicago's canal system provides a two-way superhighway for invasive plants, fish, and parasites to be transferred from one system to another. He is also working to fix our outdated water laws in Illinois.
Background: Robert Hirschfeld joined PRN in March 2011. Before joining the professional staff, Robert was a legal intern for PRN, working on Clean Water Act compliance and enforcement. Robert is also an editor of the Champaign-Urbana online magazine Smile Politely and a working musician.
Education: B.A. in religion and Asian studies and J.D. from the University of Illinois College of Law
Favorite River: 
Contact: 217.344.2371 x 205 or rhirschfeld [at] prairierivers [dot] org
Stacy James, Water Resources Scientist
Areas of Focus: polluted runoff, factory farms, agricultural pollution, rain gardenss
Stacy's primary focus is policy reform to reduce pollution caused by farming Illinois' incredibly productive land. Polluted runoff from our farmland is the biggest statewide pollution problem and also is a major contributor to the Gulf of Mexico Dead Zone. Stacy also leads our workshops on how to build rain gardens.
Background: Stacy James joined PRN in 2006. Previously, Stacy was a post-doc for the U.S. Geological Survey Columbia Environmental Research Center in Missouri, where she conducted research on the effects of contamination on aquatic organisms. Her dissertation at the University of Missouri assessed how amphibians respond to cadmium contamination in the aquatic and terrestrial environment. Before enrolling in graduate school, she worked all over the U.S. as a seasonal technician for bird, mammal, amphibian, reptile, and plant projects.
Education: B.S. in Biology and Ph.D. in Biological Sciences and Conservation Biology
Favorite River: Sangamon River
Contact: 217. 344.2371 x 203 or sjames [at] prairierivers [dot] org
Kim Knowles, Staff Attorney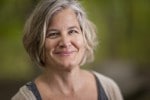 Areas of Focus: Clean Water Act, wetlands
Kim leads our efforts to use legal tools to stop illegal pollution and strengthen clean water laws. While she is currently focusing on strengthening state and federal rules on nutrient pollution, she provides legal support in many other program areas as well.
Background: Kim joined the staff of PRN in November 2008. Kim is a former staff attorney for the Missouri Coalition for the Environment and has a long history of working in the public interest, including working with Native American communities. In New Mexico, Kim worked as a staff attorney for Indian Pueblo Legal Services and as a public defender for the Jicarilla Apache Tribe. During law school she worked for The National Wildlife Federation in Washington, D.C.
Education: B.S. in economics; M.A. in public policy and a J.D
Favorite River: 
Contact: 217. 344.2371 x 209 or kknowles [at] prairierivers [dot]org
Vickie Nudelman, Operations Manager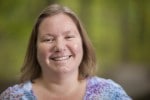 Areas of Focus: Fundraising, Finances, Day-to-Day Operations
Vickie leads our fundraising activities including our Annual Dinner and Run for Your Rivers fundraising events and contributes to our communication outreach efforts. Vickie also leads our in-house graphic design work and manages day-to-day office operations and financial management.
Background: Vickie joined PRN in 2005. Previously, Vickie worked for the Mississippi Center for Community and Civic Engagement as the program coordinator of a service-learning grant that focused on improving civic education by utilizing college students as civic tutors to K-8 students in after-school programs. Vickie also previously worked as a technical writer where she coauthored several computer textbooks.
Education: B.S. in Computer Information Systems and Marketing
Favorite River Activity: canoeing with the family
Contact: 217.344.2371 x 200 or vnudelman [at] prairierivers [dot] org
Brian Perbix, Grassroots Organizer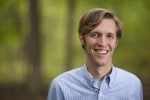 Area of Focus: Coal Pollution
Brian works with Illinois residents, helping them influence decision-making surrounding coal mines and coal ash disposal where threats to clean water and water supplies exist. He is also educating voters and lawmakers about the many subsidies and fee exemptions Illinois taxpayers provide to the coal industry.
Background: Brian joined PRN in 2010.  Prior to PRN, he researched the use of goats to control invasive plants in Iowa prairies. He also worked at the Conard Environmental Research Area in Kellogg, IA on multiple aspects of prairie restoration. Brian has been involved with many community organizations, including internships with the African Network for Integrated Development in Sénégal, and the Streetworks Collaborative in Minneapolis, MN.
Education: BA in Biology and a concentration in Environmental Studies
Favorite River:
Contact: 217.720.9289 x 208 or bperbix [at] prairierivers [dot] org
Sarah Scott, Administrative Assistant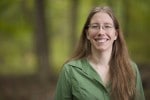 Area of Focus: Fundraising and Communications
Sarah assists with our fundraising and communications efforts and supports program staff. Sarah maintains our RiverWeb email list, archives our media news coverage, maintains our online events calendar, and records all of our member donations.
Background: Sarah joined PRN in 2008. She was a volunteer for PRN and continues to volunteer for the Humane Society.
Education:
Favorite River:
Contact: 217.344.2371 x 211 or sscott [at] prairierivers [dot] org