Gardening for Cleaner Rivers and Healthy Communities:
An Introduction to Rain Gardens
What is a rain garden?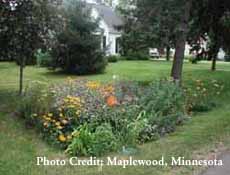 A rain garden is one that is designed to collect and absorb excess rainwater that would otherwise run off your property. As the rain garden bed is slightly below the level of the yard, the garden acts as a shallow dish that holds the water for a short time so that it can instead soak into the garden soil.
What are the benefits of a rain garden?
Rain gardens have many benefits. First, it is an attractive addition to any yard. Both you and your neighbors will enjoy its beauty for years to come.
In addition, rain gardens provide environmental benefits by improving water quality and promoting water conservation. Water that runs off hard surfaces, like your roof, and from your yard during rain events flows down the street collecting contaminants such as automobile fluids, yard fertilizers, and pet waste. By collecting the excess runoff before it reaches the street, rain gardens reduce the amount of polluted water flowing into storm drains. This is important because storm drain water is not treated before it enters your local rivers.
The water retained in the garden soaks down into the soil, providing water for the garden plants as well as for the underlying water table. This minimizes the need for watering and helps conserve municipal water supplies.
Finally, the native plants used in rain gardens provide habitat for birds, butterflies and other beneficial insects. Native plants also require less maintenance, particularly less watering, over time because they are adapted to the local soil and climate conditions.
What are the steps for creating a rain garden?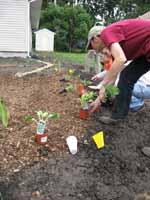 There are four main steps for creating a rain garden: 1) siting the garden; 2) designing the garden; 3) selecting and siting plants; and 4) planting the garden.
Siting the garden means selecting the place in your yard where the garden would most effectively collect the runoff from your property (i.e. close to a downspout). Garden design involves determining the garden size and depth that will maximize the amount of runoff the garden receives (simple formulas are available for calculating garden size and depth).
Garden shape is largely a matter of preference, although the longest sides should run the same direction as your yard's slope.
Plant selection is also largely a matter of preference; however, selecting plants that are diverse in color, height, texture, and blooming time results not only in a more interesting display, but one that attracts a greater variety of birds and butterflies.
Planting time depends mostly on the size of your garden. For most gardens, a few people working together will be able to complete the project in a day. Ask your friends and neighbors for help; this is a great opportunity to spread the word about the benefits of rain gardens.
How much will it cost?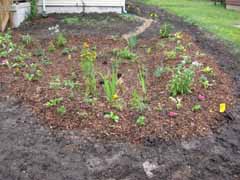 The cost of installing a rain garden depends on several factors such as garden size, your yard's soil type, and the plants selected. You can reduce the cost of plants by selecting younger plants, getting specimens from friends, or raising your own from seed. You can also plant in phases; completing one section of the garden this year, and then completing the planting in the following year.
Where can I get more information?
Planning and planting a rain garden is satisfying and fun. Here are several readily available resources to help get you started:
Planning and Design:
-"Rain Gardens: A How –To Manual for Homeowners,"
University of Wisconsin – Extension and Wisconsin DNR. An excellent manual that is available through the University of Wisconsin's website:
http://clean-water.uwex.edu/pubs/home.htm#rain
-The Office of the Illinois Lt. Governor has a website with rain garden information and links to resources:
http://www.standingupforillinois.org/cleanwater/raingarden.php
-Your Local County Extension Office and County Master Gardeners
-Horticulture Department of your local community college or university
Plant Selection:
-Illinois Native Plant Society: http://www.ill-inps.org/
They have a listing of nurseries throughout Illinois that provide native plants and seeds.
-Prairie Nursery: www.prairienursery.com
Their plant information is very helpful for creating a rain garden. They also carry rain garden seed mix.
-"Native Plants in the Home Landscape," University of Illinois Extension Circular No. 1381, $24.95. Available from the Extension Office at:
https://webstore.aces.uiuc.edu/shopsite/features.html or by calling 1-800-345-6087
-"Lakescaping for Wildlife & Water Quality," Carrol Henderson, Carolyn,
Dindorf, and Fred Rozumalski, $20. Very inspiring book with great plant information in the back.
-"Landscaping for Wildlife," Carrol Henderson, $11. Another great book with excellent plant information.
Both of these books are available through Minnesota's Department of Natural Resources Bookstore: http://www.dnr.state.mn.us/ecological_services/pubs_animals_habitat.html, or by calling 1-800-657-3757