Is It Right For You?
Illinois' Future Energy Jobs Act (FEJA) created a brand new program, called "Community Solar," that expands access to solar energy. Since the act's passage in December 2016, citizens, businesses, and community groups have been anxiously waiting for the opportunity to make their Community Solar project a reality. That time is finally here. The Illinois Power Agency (IPA) is expected to receive approval of their plan finalizing FEJA's programs in early April.
Let's explore what Community Solar is and what you can do now to begin to take advantage of this new program.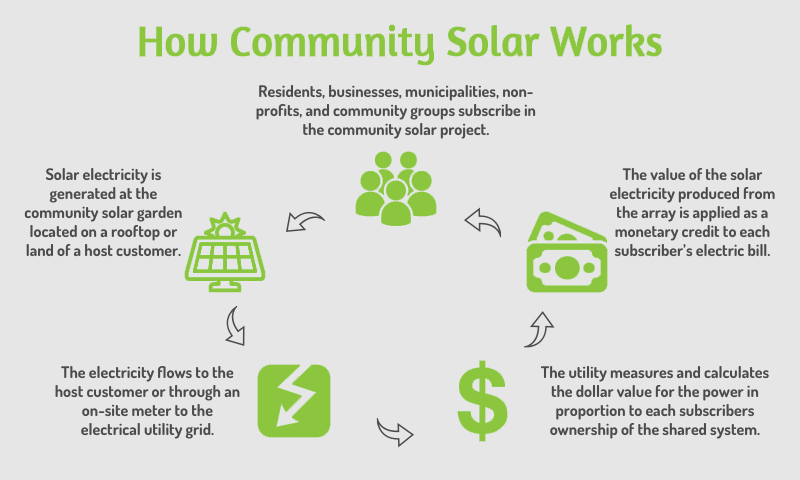 What is Community Solar?
"Community Solar" allows community members who may not have an opportunity for a solar project on their property, such as renters and those with shaded roofs or limited incomes, to come together as subscribers in an off-site Community Solar project (i.e. Community Solar Farm, Community Solar Garden).
A Community Solar Garden may be sited on rooftops of "host customers," such as community centers/buildings, churches, schools, malls, apartment buildings, or on remote offsite land. The energy from the panels is used to power the host customer or fed directly to the grid.
At least three off-site subscribers are required to buy or lease a share of the installation. Through a process called "virtual net metering," the subscribers receive a monetary credit, based on their level of participation, on their electric bill for the energy produced by the panels.
Community Solar Quick Facts
At least three subscribers are required
No subscriber may own or lease more than 40% of a project
Maximum project size is 2 Megawatts (MW) (enough power for about 320 homes)
Minimum subscription size per customer is 200 watts (or about one solar panel)
Subscribers must be located in the same utility territory as the project
If you move within the same utility territory you can take your subscription with you
If you move outside the utility territory you may sell or transfer your subscription
The Illinois Commerce Commission and the Illinois Power Agency (IPA) have to approve any community solar project
Additional funding and incentives are available through FEJA's "Solar for All" for projects that serve low-income subscribers and communities
Take Action Toward Community Solar
Are you interested in subscribing to or developing a Community Solar Garden and don't know where to start? A new website, Solar in the Community, sponsored by the non-profits Environmental Defense Fund, Citizens Utility Board, and Elevate Energy, connects those who are interested in Community Solar.
The website describes itself as "a match-making site for Community Solar Developers, Communities, and Subscribers." Potential subscribers (residents or businesses) can search for projects proposed by developers, and communities can propose their own projects to attract subscribers and developers. The site is currently allowing pre-registration and preliminary project information, but it won't go live until early April, after the Illinois Commerce Commission approves the IPA final plan.
Now is the time to consider the solar needs of your home (or rental), business, and community, and decide if a community solar project may be right for you.
Learn More
The Illinois Solar Energy Association's Community Solar PowerPoint Presentation and list of community solar developers in Illinois
Citizens' Utility Board Community Solar Fact Sheet
Environmental Law and Policy Center's Community Solar Fact Sheet