To celebrate Prairie Rivers Network's 45th Anniversary we give you 45 ways to connect with, care for, and learn more about Illinois' rivers and streams.

JANUARY
• Hang up your calendar and check out ways to connect with, care for, and learn more about Illinois' rivers for the rest of the year!
FEBRUARY
• Join Prairie Rivers Network's Illinois Marathon team and run (or walk!) for your rivers.
• 14 – Show us your love. Sign up for RiverWeb, our news and Action Alert network, and be an active voice for rivers.
• Cut down on your use of single-use plastics; use recyclable lunch and produce bags and bring your own grocery bags. Check out just some of the many options at http://www.chicobag.com/ or learn how to make your own
• Visit the National Great Rivers Research and Education Center in Alton, IL.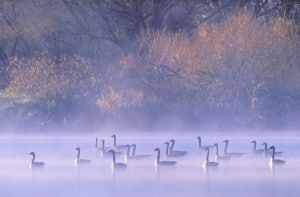 MARCH
• Commit to not drinking bottled water. Tap water is better regulated than bottled & generates less waste!
• 16 – Submit your essay for the Mississippi River Essay Contest.
• Become a Certified Illinois RiverWatch "Citizen Scientist" by attending one of 11 training sessions throughout the state.
"To become a volunteer, certified RiverWatch "Citizen Scientist," please register for one of the following Training Workshops. Workshops are conducted from 9 am – 4 pm. Registration is $50 and must be paid in advance. For more information, click here."
• Visit the Cypress Creek National Wildlife Refuge in the Cache River watershed near Ullin, IL – a Ramsar Site Wetlands of International Importance.

APRIL
• Celebrate National Poetry Month by enjoying poems about rivers, or write your own!
quiet river flows
distinctly beautiful
firm in its resolve
— Kim Knowles, Staff Attorney
 Water
Everything on the earth bristled, the bramble
pricked and the green thread
nibbled away, the petal fell, falling
until the only flower was the falling itself.
Water is another matter,
has no direction but its own bright grace,
runs through all imaginable colors,
takes limpid lessons
from stone,
and in those functionings plays out
the unrealized ambitions of the foam.
-Pablo Neruda
• 14 – Pitch in at the Boneyard Creek Cleanup and Community Day in Champaign.
The event was cancelled, due to weather, in 2011 but is on for 2012! Check the website closer to the 27th or contact Cecily Smith at csmith@priairerivers.org for more information.
• 22 – Celebrate Earth Day with renewed effort to REDUCE, RECYCLE, REUSE and REBUY.
• Renew your membership with Prairie Rivers Network – our effectiveness depends on our strength in numbers!
MAY
• Show your support by "liking" our Facebook page!
How? 1.Log onto facebook or create a free profile 2.Search for Prairie Rivers Network  3.Click on the Join Group button in the right-hand corner
• 12 – Celebrate Chicago River Day
• 20 – Participate in the 55th Annual Des Plaines River Canoe and Kayak Race.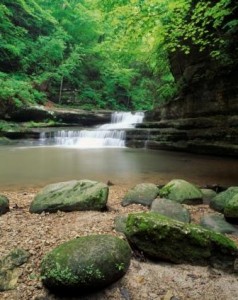 JUNE
• Check out our River Recreation web pages for information on where to play in and around rivers in your part of the state.
• Fish, float or camp at Illinois' only National Scenic River: The Middle Fork of the Vermilion near Danville, IL
• Watch The Story of Stuff online. Consider what you can do to REDUCE.
• Hike Bell Smith Springs. You will understand why advocates have fought so hard to protect this beautiful place.  For a map click here.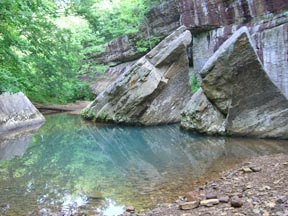 JULY
• 4 – Compost your leftovers! According to the EPA, 27% of U.S. municipal solid waste is from food. Here is a great resource for getting started with backyard composting. 
• Visit the Upper Mississippi River Fish and Wildlife Refuge near Rock Island.
• Test your tap water. Compare the results to water quality reports from your local water provider.
• Learn how the Middle Fork of the Vermilion River was saved, leading to the birth of what would become Prairie Rivers Network.
AUGUST
• Photograph your favorite river spot and send it to Prairie Rivers Network, or post it on our Facebook page.
• Visit, bike or hike the Great River Road National Scenic Byway along the Mississippi River in Illinois.
• Foster your children's appreciation for clean water: check out our list of 10 Ways to Connect with Water.
• Take a tour at the Volo Bog Interpretive Trail/Center in Lake County.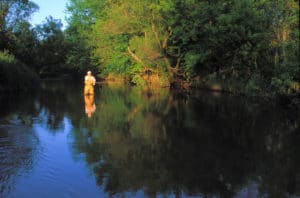 SEPTEMBER
• Watch an environmental film or documentary, such as Bag It; King Corn; Tapped; Coal Country; The Meatrix; Living a Nightmare; Crude; No Impact Man; Thirst.
• Bike the Fox River Bike Trail.
• 17 – It's Our River Day! Find a river cleanup event near you.
• Explore the Project WET's Discover Water website www.discoverwater.org with your children (or even by yourself!).
OCTOBER
• 5 – Attend Prairie Rivers Network's 14th Annual Dinner and help celebrate our 45th anniversary.
• Visit the Lewis and Clark State Historic Site and the Confluence Tower, both located in Hartford, IL.
• 17 – Recognize the Clean Water Act's 40th birthday by calling your Congressional Representatives and letting them know you want them to protect clean water.
• Water and energy consumption are linked – using less energy reduces strain on our water supplies. Learn how you can save energy, save money, and reduce your impact.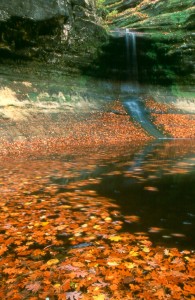 NOVEMBER
• Read one of the many fascinating books about the history of Illinois' people and rivers – here are some of our favorites:
1. Wicked River: The Mississippi When It Last Ran Wild by Lee Sandlin
2. River-Horse: a Voyage Across America by William Least Heat-Moon – According to Cecily Smith, a sober, but stuff-you-should-know one like a modern day Silent Spring.
3. Living Downstream by Sandra Steingraber
4. The Big Thirst: The Secret Life and Turbulent Future of Water by Charles Fishman, a great one on water supply.
• Visit the National Mississippi River Museum and Aquarium (Dubuque, IA)
• 22 – Give thanks for clean water by renewing your support for your state advocate for clean water and healthy rivers : PRAIRIE RIVERS NETWORK!
• Count the number of Illinois Rivers you have visited and send us your pictures!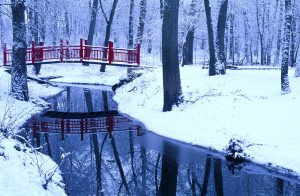 DECEMBER
• "It's good to recycle your junk mail. It's even better to stop getting it." Visit: http://stopjunkmail.org
• Visit a nature center in your area. Enjoy mosquito-free hiking in winter!
• Spend cold days inside becoming a watershed expert. Visit the EPA's Watershed Academy and get certified for FREE.
•25 – Participate in the Audubon Society's yearly bird count.