Help Celebrate PRN's 50th Anniversary
Join our 2017 Run/Walk for Clean Water at the Illinois Marathon!
5K | 10K | Half | Full | Relay | Youth Run
April 20-22, 2017
Walk or Run. It's easy. It's fun. It's important.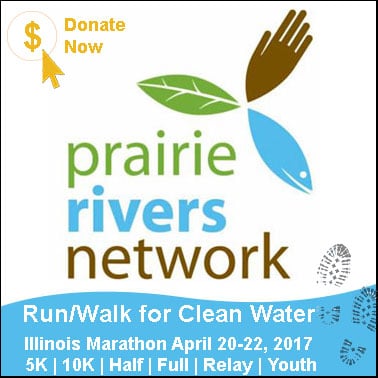 What does Clean Water mean to you? To us, our rivers, lakes, and waterways should be drinkable, swimable, and fishable! That is our goal and we need your help to achieve it. The money you raise will go to support our clean water work to:
What is our Run/Walk for Clean Water fundraiser?
Our 2017 Run/Walk for Clean Water is a fundraiser for Prairie Rivers Network associated with the Illinois Marathon. You walk or run in one of the races at the Illinois Marathon and ask for donations from family and friends to sponsor your charity walk/run. It is that easy. You can walk the 5K or 10K or run the 1/2 marathon or full marathon.
But I don't like to ask for money, isn't that hard to do?
It's easy! Look at all the people who have participated in this fundraiser and helped raise over $35,000 for clean water and healthy rivers: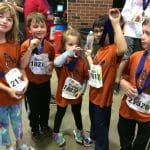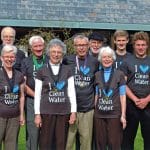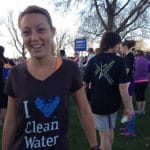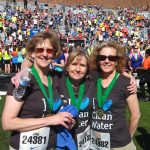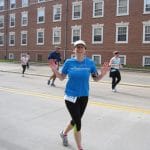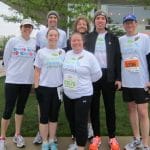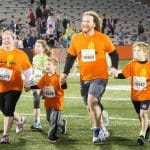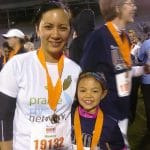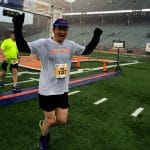 Prairie Rivers Network is celebrating our 50th Anniversary of protecting Illinois' environment this year and is a registered 501 (c) (3) in Illinois. Donations are tax deductible and 100% goes towards our clean water programs in Illinois NOT to overhead for the race.
Benefits of walking/running for Prairie Rivers Network
Guaranteed lowest race registration fee when you first sign up to be a fundraiser for Prairie Rivers Network
Membership in Prairie Rivers Network
Team t-shirt when you raise at least $100
Raise $250 or more and receive a complimentary ticket to our Annual Dinner
Prize awarded to biggest fundraiser
Making a difference by supporting a great cause: clean water
How can you help?
  Click here to make a donation right now!
– or –
  Join the fundraising team – the running/walking is the hard part, fundraising is easy:
E-mail your family, friends, and co-workers to support you and clean water!

If you have already registered for your Illinois Marathon race, you are all done. If not, request a discount code from Vickie (vnudelman [at] prairierivers.org) and then register.

Train for your race.

Pat yourself on your back. You did something good for yourself and to protect our most important natural resources – WATER!
FAQ
What if I don't want to fundraise? No problem. You can join the team by making a donation yourself.
Is it hard to fundraise? No! Start out by asking for small donations from your family, friends, and co-workers. Ask your workplace to sponsor you or match donations raised. Post on your facebook page, be creative. You can do it! Don't worry about asking for money, people like to support someone they know and support a good cause. All you have to do is ask.
What is the fundraising minimum? The goal is for every runner to raise at least $250, but it is not required.
What happens if I do not reach the $250 goal? Nothing. You are not required to raise that amount. We hope you are motivated to help us protect Illinois rivers for today and for the future.
What happens with the money I raise? When someone donates through your fundraising page, 100% of their tax deductible donation goes directly to Prairie Rivers Network, a registered 501 (c) 3 non-profit with a 45 year history of protecting our environment.
Will donors get overrun with email and solicitations? No. Members of Prairie Rivers Network will receive:
1 or 2 emails per month containing our e-newsletter and important action alerts;
3 print newsletters per year;
invitations to special events; and
1 or 2 letters per year saying how great they are for protecting our rivers and streams.
Can I get a refund if I already registered for the Illinois Marathon? No, unfortunately we are not able to get you a refund for the early bird rate.
I have a question about running and/or training – Call or email Prairie Rivers Network's experienced marathoner Elliot Brinkman 217-344-2371 x202 or ebrinkman [at] prairierivers.org.
I have questions about registration and/or fundraising page – Call or email Vickie Nudelman 217-344-2371 x200 or vnudelman [at] prairierivers.org
Business Sponsors
Prairie Rivers Network thanks all for our business sponsors for their donations and helping to make our community a better place to live.
Platinum $5,000+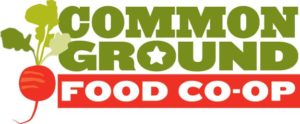 Gold $1,000+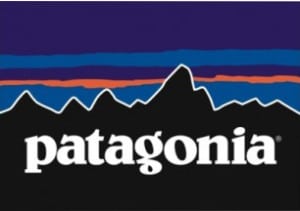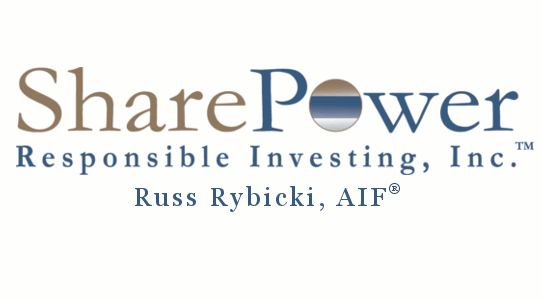 Silver $500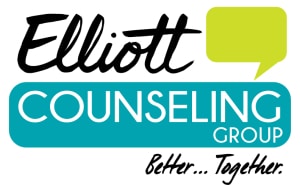 Bronze $250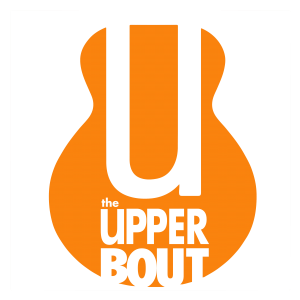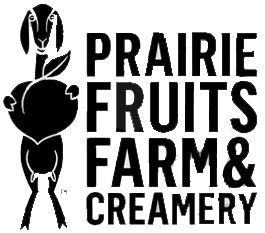 In-Kind Business Sponsors
Krannert Center for the Performing Arts
Would you like to sponsor Prairie Rivers Network?
Prairie Rivers Network invites you to support clean water and healthy rivers by becoming a business member of Prairie Rivers Network. Business sponsors can be recognized at our Annual Dinner and Illinois Marathon – Run/Walk for Clean Water – charity running team.
For more information, please view our Business Sponsor Form, or contact Vickie Nudelman at 217.344.2371 or vnudelman [at] prairierivers.org.
Previous Illinois Marathon fundraisers for PRN