Media scholar Robert McChesney will be keynote speaker
Prairie Rivers Network will honor Kevin Cummings and Suzanne Smith for their work in protecting and promoting the health of Illinois rivers and wildlife at its Annual Dinner on October 11. The event will be held at the I Hotel and Conference Center, 1900 S First Street in Champaign IL.
—–

Kevin Cummings will receive the Outstanding Public Servant award for a distinguished career spent researching and fostering critically important freshwater mussels, often called "the livers of the rivers." As the Senior Research Scientist and Curator of Mollusks at the Center for Biodiversity, Illinois Natural History Survey, Cummings is a renowned expert on mussels, and their protection and conservation. For decades, he has monitored mussels throughout Illinois, the Midwest, and around the world. Recently, Cummings undertook an effort to reintroduce threatened and endangered mussels to the Middle Fork and Salt Fork rivers, a project that is seeing extraordinary results. Beyond his groundbreaking field work, Cummings has a special talent as an ambassador for these overlooked organisms, continuously engaging in public education regarding the value of mussels as sentinels and indicators of water quality and ecosystem health.
—–
For her many years of dedicated volunteer work, Suzanne Smith of rural Homer, IL will be presented the River Steward award. Smith has been a tireless champion for the Salt Fork and Middle Fork Rivers, organizing river clean ups, taking on drainage issues, and promoting restored wildlife habitat. Smith was a co-founder of Salt Fork River Partners, a group of area residents dedicated to conservation of the river. Most recently, Smith has been an outstanding leader in the Stand Up to Coal campaign—an effort to protect prime farmland, rural communities, and clean water from the damages of proposed coal mining. She continues to be a powerful spokeswoman for a beloved stretch of river in Illinois and has inspired many others to follow suit.
—–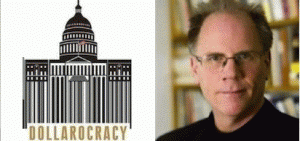 The evening's keynote speaker will be media scholar Robert McChesney, who will discuss his new book, "Dollarocracy: How the Money and Media Election Complex is Destroying America." Dr. McChesney was the longtime host of "Media Matters" on NPR and is a prolific and well-published writer on the topics of journalism and democracy. He will address the unhealthy influence of money on politics and offer insight on how to overcome this challenge, strengthen democracy, and advance good environmental policy.
The reception begins at 6:00 pm with music by Tom Turino. Dinner follows at 7:30 pm.
Price: $50 per person or $400 for a table of 10
You can RSVP for the Annual Dinner at www.prairierivers.org/dinner or by calling 217-344-2371 x. 200