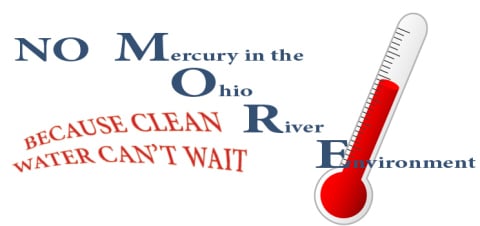 Clean water can't wait! It's time to stop discharging toxic levels of mercury into the Ohio River!
The Ohio River is the public water supply for 5 million homes from Pittsburgh, PA to Cairo, IL, and is home to over 150 species of fish. It shouldn't be a private waste dump for big business. But for ten years now, dozens of coal fired power plants and factories up and down the Ohio River have fought a requirement to cut the amount of mercury they dump into the river. Mercury — it's so toxic that it's not even safe to put an old glass mercury thermometer in our kids' mouths.
Right now public officials with the Ohio River Valley Water Sanitation Commission (ORSANCO), which sets pollution control standards for the Ohio River, are considering backtracking on previous limits to continue to allow "hot spots" in the Ohio River, where dangerously high levels of mercury are pumped into the river. According to the EPA, toxic pollutants like mercury can build up in the food chain to levels harmful to human and ecosystem health. They are associated with a range of adverse human health effects including cancer.
Prairie Rivers Network is working with Kentucky Waterways Alliance and other groups in states along the Ohio River to stop these increases in mercury dumping into the river.  Together we are petitioning ORSANCO to keep current rules in place.
"We, the undersigned, do not want toxic amounts of mercury dumped into the Ohio River.  We want state and federally-appointed officials charged with improving water quality in the Ohio River to uphold the ban on toxic chemical hotspots, or mixing zones.  We want government officials to put public health before corporate profits.  We want the Ohio River to be free of mercury, from Pittsburgh to Paducah."
Illinois shares 122 miles of the Ohio River before it joins the Mississippi River at Cairo, IL. This stretch of the Ohio is home to historic Cave-in-Rock, Metropolis and its famous Superman statue, the beautiful Shawnee National Forest, and the Ohio River Scenic Byway that meanders through beautiful river towns, with scenic glimpses of the river.  Please help us protect the river that these communities rely on.
Please stand with us to protect the health of Ohio River communities in Illinois, and wildlife from toxic mercury, by adding your name to the petition to ORSANCO.

When signing, please indicate that you heard about this issue from Prairie Rivers Network.
Learn more about this issue at Kentucky Waterways Alliance.
This article from WDRB in Louisville, KY (PDF of article) details how mercury pollution is threatening people, communities, and wildlife along the Ohio River.