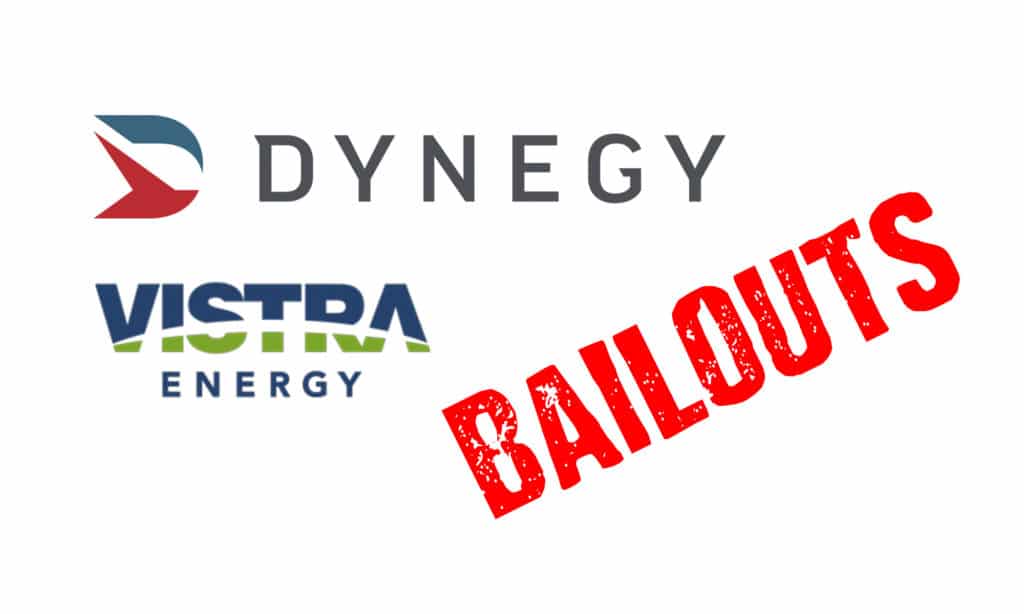 In Illinois, the public will have to pay if it wants to keep coal plants burning. In a recent blog post we shared how Texas-based Dynegy, Illinois' biggest coal power plant operator, worked closely with Governor Bruce Rauner's IEPA to craft a rule-change that would loosen air pollution regulations at the expense of Illinois' air, water, and wildlife. The proposed rule-change is expected to help Dynegy save money by allowing them to run their cheaper, dirtier plants more often.
Now, Dynegy seeks another bailout in the form of legislation from the Illinois General Assembly (Senate Bill 2250 and House Bill 4141). These bills seek to re-work how Dynegy's coal plants are valued in Illinois' unregulated energy market, but the money would come from the pocket of electricity consumers. Dynegy threatens power plant closures and argues inadequate electricity generation capacity downstate if the legislation is not passed.
Surprisingly, despite searching for bailouts, Dynegy was just sold in a $1.7 billion dollar deal to Vistra Energy, who clearly thought Dynegy was profitable enough to buy. While out-of-state companies and investors profit, Dynegy's two bailouts ask Illinois citizens to sacrifice our health and environment, as well as our pocketbooks, to prop up the financially ailing fleet.
The lights are going to stay on
The evidence does not support Dynegy's claims of inadequate generation. A survey by the Midwest Independent System Operator (MISO), the regional grid operator, found that our region can expect a surplus of energy in every year examined (2018-2022). The energy estimates include possible "capacity retirements" (e.g. coal plant closures), as well as "potential new capacity" (e.g. new wind and solar).
In response to downstate energy questions, Governor Rauner asked the Illinois Commerce Commission to provide a background paper on the issue. The resulting White Paper explored the energy surplus reported in the MISO survey and also emphasized that the Future Energy Jobs Act (FEJA) stands to lower demand and increase new renewable generation. In fact, the paper indicates that as of October 2017, there are 28 proposed new generation resources in MISO's queue which could be connected to the transmission grid between now and 2020. Ninety-eight percent of the 4,400 MWs of this new capacity are from solar and wind.
New generation that is coming online, in large part due to the FEJA, could replace the generation that could be lost if Dynegy's coal plants close. Dynegy's eight active coal fired power plants have a combined capacity of approximately 6,500 MWs, up to two thirds of which Dynegy says are at risk of retirement. The 4,400 MW of new generations projects, if all move to completion, would fully account for the capacity that Dynegy has stated is at risk. While all of the proposed projects may not come into fruition, they are clear signs that there is interest to meet the capacity needs in the state.
On November 7th, PRN staff member, Andrew Rehn, attended a "Subject Matter Hearing" on the proposed legislation. At the hearing, he heard from many organizations, including the Illinois Attorney General, Citizens Utility Board, AARP, Chemical Industry Council of Illinois, and Illinois People's Action, all speaking in opposition of the legislation. There was an overwhelming sense that this issue is not urgent and the short-term result would increase utility prices for central and southern Illinoisans. Crains Chicago Business estimates that the proposed legislation would result in an annual increase of $115 for the average Illinois household. Additionally, the impacts of the legislation are extremely complicated, long lasting, and not very well understood.
Eleven State Senators and 33 State Representatives voiced their opposition to both of Dynegy's bailouts in a letter they sent to Governor Rauner entitled "Illinois Families Can't Afford A Coal Bailout." Luckily, legislators did not act on the bailouts during the fall-veto session, but we expect to see the issue raised again early next year.
VISTRA, the big unknown
Crains Chicago Business reports that Illinois' coal-fired power plants weren't an important consideration in a deal that makes Vistra a power generation and energy giant in Texas and gives them access to more eastern markets. The new company will have a value of $20 billion with $5.5 billion in excess capital. This will be the same company asking for legislation that will place a $400 million dollar burden on Illinois consumers to increase the coal plant's competitiveness in Illinois' energy markets.
It's unclear what Vistra has in store for the future of Illinois' coal-fired powered plants. Texas has a deregulated energy market similar to Illinois', and just last month Vistra closed three plants there, citing cheap natural gas as their downfall. There is no guarantee that bailing out Dynegy will save the plants that Vistra might see as uneconomic anyway.
Forgotten Environmental Concerns
It's worth taking a moment to discuss what could get left behind in this deal. As Dynegy and Vistra have been making news with their bailouts and buyouts, there has been no mention of the 70 million cubic yards of coal ash scattered about the state at their 11 power plants. Dynegy may threaten early plant closure and job loss, but with or without citizen funded bailouts, the coal fleet is aging and each and every coal plant will eventually close. Jobs will be lost in these communities and coal-ash waste will be left behind.
We should be asking Dynegy, our legislators, and Governor Rauner what the plan is to ensure adequate coal ash clean-up in the near and long term. Coal ash impoundments sit in the floodplains of our rivers and lakes, continually polluting groundwater. Current federal laws do not require companies to provide financial assurances to protect communities in the event of future coal ash spills or pollution after plant closure. While the FEJA will provide some economic opportunities for a just transition in these power-plant communities, Dynegy and the state should be making news with conversations about workforce training and transition.
As long as coal remains Illinois' primary source of energy, it will continue to pollute our land and water. PRN recognizes that Illinois' transition to a clean energy economy is the ultimate way to decrease those impacts. We will continue to resist Dynegy's efforts to saddle Illinois' citizens with more environmental, health, and financial burdens to keep their plants burning, and we will be a downstate voice in promoting Illinois' clean energy transition.
Prairie Rivers Network continues to work in Illinois' power plant communities to address the short and long-term implications of coal ash waste. Learn more about coal ash in Illinois and in your community by visiting our coal ash map.