Join river enthusiasts and Prairie Rivers Network's staff and board members for good conversation, food, and fun at our Annual Dinner as we celebrate our rivers and streams.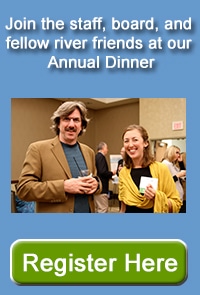 Where: I Hotel and Conference Center, 1900 S. First Street, Champaign, IL 61820
When: Friday, October 10, 2014
Reception – 6:00 pm (music by Don't Ask; silent auction)
Dinner – 7:30 pm
After-party at Houlihan's
Price: $50 per person or $400 for a table of 10
Silent Auction: Back by popular demand, we will have great prizes to bid on…
Bike from Neutral Cycle • Patagonia fleece vests and hats • Patagonia backpacks • Prairie Fruits Farm Dinner • Canoe • Stop the Dam poster from John Marlin • Framed photography by Chris Main • Wood sculpture by Rick Larimore • Pottery by Bev Rauchfuss • Pampered Chef goodies from Nancy Pagaduan • Columbia Street Roastery coffee  • Aveda  • Destihl • Pizza M • Glider Ride by Illini Glider Club • Windy City Wild book  from Jason Lindsey • Champaign Surplus merchandise
Keynote Speaker: Mary Christina Wood
Our keynote speaker will be Dr. Mary Christina Wood, a frequent and highly sought speaker on our environmental challenges and how we might deal with them. She has received national and international attention in recent years for her pointed criticisms of business-as-usual permit-granting by environmental protection agencies.
She is best known today for working with conservation interests across the country spearheading litigation—brought on behalf of children and teens, representing future generations—challenging the failures of public bodies to take responsible action under the Public Trust Doctrine. It has long been accepted in the United States and other countries that government holds waterways, beaches, and wildlife in trust for present and future generations. By bringing young people into the arena, Wood and her colleagues have helped shift attention to the future and brought real, compelling human faces to the issues. More than 50 lawsuits have been initiated across the nation, highlighting specifically the threats from climate change, drawing vast publicity and putting pressure on slow-moving governments and other actors.
RSVP by October 1st: Registration required. Click here to register now! 
You may also download our Annual Dinner Response Card and mail it with your payment to Prairie Rivers Network, 1902 Fox Drive, Suite G, Champaign, IL 61820.
Dinner Choices:
Sustainable Wild Alaskan Herb Crusted Coho Salmon with a sage cream sauce
Locally Raised Chicken Chasseur with tarragon, mushrooms, tomato, garlic & white wine
Eggplant Involtini with vegetable couscous and light tomato sauce
Dress Requirement? No. There is no dress requirement, however, most attendees dress in business or evening informal.
Thank you business sponsors
PLATINUM $5,000+

GOLD $1,000+

 

Silver $500

BRONZE $250
Prairie Rivers Network invites you to support clean water and healthy rivers by becoming a business member of Prairie Rivers Network. Business sponsors can be recognized at our Annual Dinner and Illinois Marathon – Run for Your Rivers – charity running team.
For more information, please view our Business Sponsor Form, or contact Vickie Nudelman s at 217.344.2371 or vnudelman [at] prairierivers.org.