The Prairie Rivers Network staff and board of directors had a wonderful evening visiting with 330 members and friends at our Annual Dinner on November 6th.
Pictures from the Annual Dinner
View photos from past dinners at our Flickr site…
River Steward Award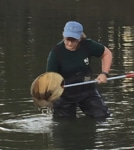 Carla Murray of Canton, Illinois received our River Steward award for her many years of dedication to the cause of clean and healthy Illinois waters. Most recently, Carla was a leader with the Canton Area Citizens for Environmental Issues (CACEI), a group that successfully fought to prevent a coal strip mine from being built near Canton Lake, a drinking water supply for over 20,000 citizens of Canton and Fulton County. Carla has participated in the Illinois EPA Volunteer Lake Monitoring Program and is a trained RiverWatch Citizen Scientist. She has also been a valuable volunteer on numerous restoration projects around Illinois, including at Emiquon National Wildlife Refuge. Throughout a long teaching career, including as a Professor of Biology at Carl Sandburg College in Galesburg, Illinois, Carla has taught innumerable students the value of healthy water ecosystems and shared her enthusiasm for protecting the environment.
 Volunteer of the Year Award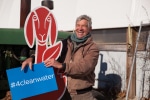 The Volunteer of the Year award was presented to Wes Jarrell of Urbana, Illinois, who is the co-owner, along with his partner and fellow PRN-member Leslie Cooperband, of Prairie Fruits Farm & Creamery, LLC. Wes is a long-time member and supporter of Prairie Rivers Network. Over the last year, Wes has been an important partner and advocate in Prairie Rivers Network's campaign to support the Clean Water Rule. With his background and experience, Wes has been a critical ally, using his voice as a farmer and businessperson to call for stewardship for our land and water. In support of the Clean Water Rule, Wes wrote op-eds, lent his image to an ad that ran in major D.C. publications, and participated in PRN's #4CleanWater social media campaign, including appearing in a short film to discuss the benefits of clean water for farmers and businesses. He has been a powerful and much-needed spokesperson for environmental responsibility.
 Keynote Presentation: Restoration Agriculture
Our dinner keynote speaker, Mark Shepard, discussed how he used restoration agriculture to create a profitable, sustainable perennial food crop by creating a farm that mimics the oak savanna natural landscape. By intentionally designing and planting perennial ecosystems, we can provide habitat for wildlife, produce food, reduce water pollution and runoff, and begin the creation of ecologically sustainable human habitats.
Mark Shepard is the CEO of Forest Agriculture Enterprises, LLC and founder of Restoration Agriculture Development, Inc. and Restoration Agriculture International, Inc.
There are many sustainable farming practices that farmers can implement that will keep soil healthy and protect water. Perennial and winter cover crops prevent erosion and fertilizer loss, improve soil health, provide habitat for wildlife, and produce food. Strips of vegetation along ditches and streams provide a buffer that reduces sediment and nutrient runoff that harms water quality. Advancing sustainable farming practices in Illinois means financial opportunities for farm families, while ensuring we have healthy soil and clean water, nutritious food and healthier communities.
Thank you business sponsors
PLATINUM $5,000+

GOLD $1,000+

 

Silver $500




BRONZE $250
Prairie Rivers Network invites you to support clean water and healthy rivers by becoming a business member of Prairie Rivers Network. Business sponsors can be recognized at our Annual Dinner and Illinois Marathon – Run for Your Rivers – charity running team.
For more information, please view our Business Sponsor Form, or contact Vickie Nudelman at 217.344.2371 or vnudelman [at] prairierivers.org.