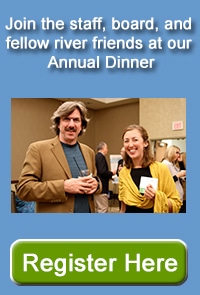 Join river enthusiasts and Prairie Rivers Network's staff and board members for good conversation, food, and fun at our Annual Dinner as we celebrate our rivers and streams.
Where: I Hotel and Conference Center, 1900 S. First Street, Champaign, IL 61820
When: Friday, October 21, 2016
Reception – 6:00 pm (art themed silent auction)
Dinner – 7:30 pm
After-party at Houlihan's
Price: $50 per person or $400 for a table of 10
Keynote Speaker: George Hawkins, General Manager and Chief Executive Officer of DC Water
Not only does Mr. Hawkins provide clean water to the residents of our nation's capitol, he is also one of the nation's best communicators on the future of water and how we will meet the needs of a growing population, delivering clean, safe, and reliable water to all Americans. This is something we've been thinking about a lot in the wake of the lead crisis in Flint, Michigan and as we confront the reality of aging and inadequate water infrastructure around the country.
A few of us at Prairie Rivers Network heard Mr. Hawkins speak in D.C. recently and we immediately wanted to bring his message to you, our members and friends. If you can speak with as much passion about water infrastructure as Mr. Hawkins does, you deserve to be heard!
George Hawkins serves as Chief Executive Officer of DC Water. Mr. Hawkins is transforming DC Water into an innovative, customer-oriented enterprise. DC Water is implementing the $2.6 billion Clean Rivers Project to nearly eliminate combined sewer overflows, investing $950 million to reduce nutrient pollution to the Chesapeake Bay, and finishing a $470 million waste-to-energy program to produce a marketable nutrient-rich soil amendment and generate 13 megawatts of green power. George has also tripled the program to replace water infrastructure.
DC Water has been the recipient of almost every major award in the industry, including most recently, the 2016 US Water Prize for its resource recovery efforts.
DC Water is also driving a robust innovations program focused on customer engagement, vibrant social media, research and development, and product development and licensing. George has also launched DC Water Works – a program to encourage local workforce hiring.
George has held executive positions in state and municipal government, environmental and community groups, US EPA and private law practice.  Mr. Hawkins has received many awards for his public service, including the 2014 Public Official of the Year Award from Governing Magazine, and Business Leader and Public Leader Awards from the DC Chamber of Commerce and DC Business and Industry Association.  Mr. Hawkins graduated from Princeton University and Harvard Law School, and currently teaches Environmental Law and Policy at Princeton University.
RSVP by Oct 12th: Click here to register now.
Dinner Choices:
Fish – Broiled Great Lakes Whitefish Provencal, Herb Scented Tomato Cous Cous, Local Seasonal Vegetable
Chicken – Roasted Local Chicken Breast with Natural Jus Emulsion, Herb Scented Tomato Cous Cous, Local Seasonal Vegetable
Vegetarian – Roasted Vegetable Ravioli with Herbed Cream Sauce & Julienne Seasonal Vegetables
Dress Requirement? No. There is no dress requirement, however, most attendees dress in business or evening informal.
Business Sponsors
Prairie Rivers Network thanks all for our business sponsors for their donations and helping to make our community a better place to live.
Platinum $5,000+
Gold $1,000+
Silver $500
Bronze $250
Silent Auction Donors
Karen Carney
Beth Engelbrecht-Wiggans
Carol Hays
Rob Kanter
Krannert Center for the Performing Arts
John Marlin
Jean and Durango Mendoza
Derek Pankau
Della Perrone
Beverly Rauchfuss
Tom Smith
Carol Wock
Would you like to sponsor Prairie Rivers Network?
Prairie Rivers Network invites you to support clean water and healthy rivers by becoming a business member of Prairie Rivers Network. Business sponsors can be recognized at our Annual Dinner and Illinois Marathon – Run/Walk for Clean Water – charity running team.
For more information, please view our Business Sponsor Form, or contact Vickie Nudelman at 217.344.2371 or vnudelman [at] prairierivers.org.