Join river enthusiasts and Prairie Rivers Network's staff and board members for good conversation, food, and fun at our Annual Dinner as we celebrate our rivers and streams.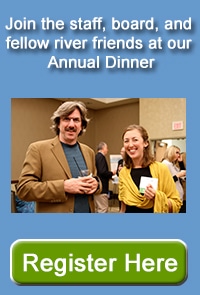 Where: I Hotel and Conference Center, 1900 S. First Street, Champaign, IL 61820
When: Friday, November 6, 2015
Reception – 6:00 pm (music by Stringtown Lane; silent auction)
Dinner – 7:30 pm
After-party at Houlihan's
Price: $50 per person or $400 for a table of 10
RSVP: Click here for online reservations. 
Reservations are required by October 28, 2015!
You may also download our Annual Dinner Response Card and mail it with your payment to Prairie Rivers Network, 1902 Fox Drive, Suite G, Champaign, IL 61820.
Dinner Choices:
Aqua Terra Farms Ivory Arctic Char Amandine with UIUC's Sustainable Student Farm Swiss Chard, Root Vegetable Gratin, and Smoked Pepper Vinaigrette
Miller Farm Amish Breast of Chicken with Marcoot Creamery Smoked Gouda, UIUC's Sustainable Student Farm Swiss Chard, Root Vegetable Gratin, and Cherry-Port Demi Glace
Eggplant Crepe with a Roasted Sweet Potato Quinoa Blend and Curried Tomato Ragu (Vegetarian)
Dress Requirement? No. There is no dress requirement, however, most attendees dress in business or evening informal.
Keynote Speaker: Mark Shepard, a Midwest farmer leading the way in sustainable restoration agriculture and CEO of Forest Agriculture Enterprises, LLC and founder of Restoration Agriculture Development, Inc. and Restoration Agriculture International, Inc.
Mark Shepard runs New Forest Farm in SW Wisconsin. The 106-acre perennial agricultural savanna is considered by many to be one of the most ambitious sustainable agriculture projects in the United States.
New Forest Farm is a planned conversion of a typical row-crop grain farm into a commercial-scale, perennial agricultural ecosystem using oak savanna, successional brushland and eastern woodlands as ecological models.
Trees, shrubs, vines, canes, perennial plants and fungi are planted in association with one another to produce food (for humans and animals), fuel, medicines, and beauty. Hazelnuts, chestnuts, walnuts and various fruits are the primary woody crops. The farm is entirely solar and wind powered and farm equipment is powered with locally produced biofuels that are not taken from the human food chain.
Trained in both mechanical engineering and ecology, Mark has developed and patented equipment and processes for the cultivation, harvesting and processing of forest-derived agricultural products for human foods and biofuels. Mark was certified as a Permaculture designer in 1993 and received his Diploma of Permaculture design from Bill Mollison, the founder of the international Permaculture movement.
Mark serves on the board of the Southwest Badger Resource Conservation and Development Council. He teaches agroforestry and Permaculture worldwide. Mark is a farmer member of the Organic Valley cooperative, the world's largest organic farmers marketing co-op, and is the founder and chief Cydermaker for the Shepard's Hard Cyder winery in Viola, Wisconsin.
Whether you call it Permaculture, Agroforestry, Eco-Agriculture, Agroecology, or Restoration Agriculture, Mark will talk with us at the dinner on how we can look to nature to redesign agriculture here in Illinois to help create a healthier, more ecologically sustainable world.
REDESIGNING AGRICULTURE IN NATURE'S IMAGE
Annual monocropping produces nearly all of the grain, meat, vegetables, and processed foods consumed today. These practices require giant machinery, tilling, and the application of chemical pesticides and fertilizers, resulting in the eradication of biodiversity, the erosion of topsoil, and output of 30% of global carbon emissions – more than from any other source.

Despite the massive human efforts applied to farming, we are woefully short of the inherent resilience, stability, and outright beauty of natural ecosystems. We need look no further than native ecosystems for a template of how to move forward from the many woes of annual monocropping. This is our goal and mission: Redesigning Agriculture in Nature's Image.

By intentionally designing and planting perennial ecosystems, we remove carbon dioxide from the air, provide habitat for wildlife, produce food, prevent soil erosion, and begin the creation of ecologically sustainable human habitats.

Does this actually work in reality? Will it really produce enough, food, fuel, timber and human necessities to be economically viable? We firmly believe the answer is yes.
Thank you business sponsors
PLATINUM $5,000+

GOLD $1,000+

 

Silver $500

BRONZE $250
Prairie Rivers Network invites you to support clean water and healthy rivers by becoming a business member of Prairie Rivers Network. Business sponsors can be recognized at our Annual Dinner and Illinois Marathon – Run for Your Rivers – charity running team.
For more information, please view our Business Sponsor Form, or contact Vickie Nudelman at 217.344.2371 or vnudelman [at] prairierivers.org.