How far would you run or walk to have clean water?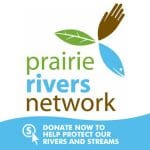 3.1 miles, 6.2 miles, 13.1 miles, or even 26.2 miles
What do you need to do to run/walk for a good cause?
The running/walking is the hard part, fundraising is the easy part.
Click here to create your fundraising page (pdf instructions).
Ask your family, friends, and co-workers to support you because who doesn't like clean water!
Register for your race at the Illinois Marathon if you have not already. (You can get the early bird rate by requesting a discount code from Vickie (vnudelman [at] prairierivers.org) before you register.)
Why support Prairie Rivers Network?
By raising money for Prairie Rivers Network, you will be making a difference by protecting our vital water resources, not just for right now, but also for future generations.
You will be protecting our drinking water supply.
You will be protecting the homes of wildlife that depend on rivers, from otters that inhabit the streambanks to the iconic bald eagles soaring over the Illinois River.
You will be helping to protect the multi-billion dollar recreation, tourism, and fishing economies that depend on our rivers and lakes; economies that are vital to Illinois' financial future.
Prairie Rivers Network has been protecting Illinois' environment for 45 years. Learn more about what we do. Prairie Rivers Network is a registered non-profit. Donations are tax deductible and 100% go towards river conservation efforts in Illinois not to overhead for the race.
FAQ
What if I don't want to fundraise? No problem. You can join the team by making a donation yourself.
Is it hard to fundraise? No! Last year, our team raised $10,000. Start out by asking for small donations from your family, friends, and co-workrers. Ask your workplace to sponsor you or match donations raised. Post on your facebook page, be creative. You can do it! Don't worry about asking for money, people like to support someone they know and support a good cause. All you have to do is ask.
What is the fundraising minimum ? The goal is for every runner to raise at least $250, but it is not required.
What happens if I do not reach the $250 goal? Nothing. You are not required to raise that amount. We hope you are motivated to help us protect Illinois rivers for today and in the future.
What happens with the money I raise? When someone donates through your Run for Your Rivers fundraising page, 100% of their tax deductible donation goes directly to Prairie Rivers Network, a registered 501 (c) 3 non-profit with a 45 year history of protecting our environment.
Will donors get overrun with email and solicitations? No. Members of Prairie Rivers Network will receive:
1 or 2 emails per month containing our e-newsletter and important action alerts;
3 print newsletters per year;
invitations to special events; and
1 or 2 letters per year saying how great they are for protecting or rivers and streams.
Can I get a refund if I already registered for the Illinois Marathon? No, unfortunately we are not able to get you a refund for the early bird rate.
I have a question about running and/or training - Call or email Prairie Rivers Network's co-captain and experienced marathoner Elliot Brinkman 217-344-2371 or ebrinkman [at] prairierivers.org.
I have questions about registration and/or fundraising page - Call or email Vickie Nudelman 217-344-2371 or vnudelman [at] prairierivers.org
Do you want to sponsor our team?
Prairie Rivers Network invites you to support clean water and healthy rivers by becoming a business member of Prairie Rivers Network. Business sponsors can be recognized at our Annual Dinner and Illinois Marathon – Run for Your Rivers – charity running team.
For more information, please view our Business Sponsor Form, or contact Vickie Nudelman at 217.344.2371 or vnudelman [at] prairierivers.org.