The Prairie Rivers Network staff and board of directors had a wonderful evening visiting with 300 members and friends at our Annual Dinner on October 11th.
Pictures from the Annual Dinner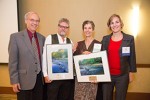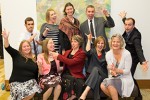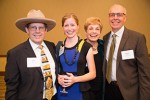 View more, full size photos at our Flickr site…
Congratulations to our 2013 River Steward and Outstanding Public Servant
Kevin Cummings received the Outstanding Public Servant award for a distinguished career spent researching and fostering critically important freshwater mussels, often called "the livers of the rivers." And for her many years of dedicated volunteer work, Suzanne Smith of rural Homer, IL was presented the River Steward award. Smith has been a tireless champion for the Salt Fork and Middle Fork Rivers, organizing river clean ups, taking on drainage issues, and promoting restored wildlife habitat. Read more on our award winners…
Dollarocracy: How the Money and Media Election Complex is Destroying America
Our keynote speaker, Robert McChesney, discussed his new book, "Dollarocracy: How the Money and Media Election Complex is Destroying America." McChesney was the longtime host of "Media Matters" on NPR and is a prolific and well-published writer on the topics of journalism and democracy. McChesney talked about how the challenges we face are daunting—the forces that concentrate wealth and power threaten our very democracy, the democracy that is our best hope of achieving a healthy environment and just society. Despite these challenges, McChesney encouraged us to take an active role in our democracy and grassroots organizations because history has shown that organizations like Prairie Rivers Network and passionate individuals working together can have profoundly positive impacts.
The Annual Dinner was covered in the "On the Town" section of the News-Gazette.
Thank you sponsors