June 25, 2012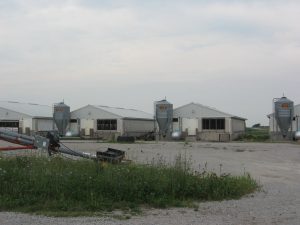 On June 10, 2012, the clock ran out on Shamrock Acres. This proposed 18,000 head hog operation was slated to be built in McDonough County south of Macomb. But most nearby residents did not want to live next to so many hogs, with its associated odors and potential for water pollution. And so they formed a group called Rural Residents for Responsible Agriculture and launched a successful campaign to oppose construction.
Part of their campaign strategy was to contact Prairie Rivers Network and ask for assistance. We were concerned about Shamrock Acres because it was to be located in an area already well-populated with large hog operations. Shamrock Acres would have drained into Sugar Creek, which is on the state list of impaired waters due to fecal coliform pollution. We were also concerned that the applicant had recently received a violation notice from the IEPA for water pollution violations at his cattle operation.
Prairie Rivers Network teamed up with Illinois Citizens for Clean Air & Water and the Washington University Environmental Law Clinic. We helped the citizens group by working with them to organize a press conference, filing a public comment letter opposing the construction, and meeting with the Department of Agriculture to discuss our concerns.
Shamrock Acres had until June 10 to meet the requirements of the Livestock Management Facilities Act so that construction could begin. The applicant failed to respond to the Department of Agriculture's last information request, and subsequently the construction application is now dead.
Rural Residents for Responsible Agriculture did a great job standing up for and sharing their concerns with the public, the media, the Department of Agriculture, and their legislators. We think this is a great example of how activism can be successful, especially if the effort has strong and dedicated members willing to write letters and make phone calls and speeches.
Shamrock Acres is a rare victory. Many other factory farms have been approved for construction despite local opposition. As Rural Residents member Loka Ashwood aptly stated, creating more stringent siting requirements is the much-needed next step. We are working on it!
This entry was posted on Monday, June 25th, 2012 at 8:00 am and is filed under Articles. You can follow any responses to this entry through the RSS 2.0 feed. You can leave a response, or trackback from your own site.