August 28, 2012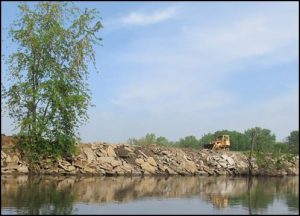 Prairie Rivers Network has joined a federal lawsuit filed by the Quad Cities Waterkeeper against Ballegeer Trucking and Excavating for outrageous and unlawful acts against the Green River. For years, Ballegeer has been dumping huge slabs of concrete on the banks of the Green River in Henry County close to where the Green joins the Rock River. Ballegeer has also been dumping concrete, rebar, and other building materials into the Green River, and has been unlawfully dredging sand from the river. Apparently, the Ballegeers believe the Green River is their private dumping ground and a free source of sand for their businesses. We think not. As you can see in the Waterkeeper's YouTube video, the Green River is a beauty. It provides invaluable habitat for a diversity of fish, wildlife and migratory birds. It is also widely enjoyed for recreation.
We've asked the federal court to stop the Ballegeers from abusing the river in this way and to pay for their lawless acts.
See the extent of dumping on the river banks and dredging of sand:
See what it looks like underwater!
This entry was posted on Tuesday, August 28th, 2012 at 4:25 pm and is filed under PRNet News. You can follow any responses to this entry through the RSS 2.0 feed. You can leave a response, or trackback from your own site.